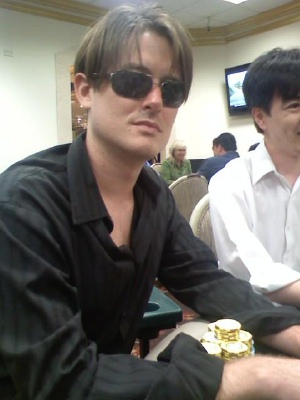 Skye Pinson first started playing poker in 2000 when he was 20 years old and a student at UC-Irvine in Southern California. Like many other players, Skye was originally inspired by the movie "Rounders" and spent his nights driving the 90 minutes each way to an Indian casino where he could try his underage hand at poker. Skye started out playing $3-$6 Limit Hold'em, usually losing his money quickly and making the long drive back to Irvine. However, his determination to win kept bringing him back to the casino and he soon became a student of the game. As a full time college student, who did scientific research as part of his studies and worked part time at Starbucks, he didn't have much money to play with each night. He recalls driving the hour and a half to Pechanga Resort and Casino, only to lose everything he had brought in under an hour. Despite some very disheartening sessions in those early days, Skye remembers thinking that poker was a game that could be beat, and he was determined to make this a reality. The Starbucks where he worked was next to a book store where Skye would often spend his time after his shift, reading poker books and seriously studying the game. After about 40 sessions and losing roughly $2000 at low-limit Hold'em, Skye's results began to turn around, and 2000 was his first and last losing year in poker.

Only six days after his 21st birthday, Skye walked into Hawaiian Gardens Casino for his first session in a Los Angeles card room. He played $3-$6 Hold'em and lost that night, but soon became a regular winner in the game. Despite being extremely busy with school, research, and now working as a professional academic tutor, Skye made time to continue playing as much as possible. In 2002, along with several other players including fellow Poker-Vibe contributing writer Jesse Knight, Skye helped start a small buy-in No Limit Hold'em game at Hawaiian Gardens. The game had a $100 maximum buy-in with $2-$3 blinds, which was the first of its kind. Prior to this game, small stakes No-Limit Hold'em games were virtually unheard of, which made this new game revolutionary. Soon, the small stakes No Limit craze caught on all over Los Angeles, and eventually spread worldwide.

It wasn't long before Skye's No Limit Hold'em skills began to improve and he was consistently beating the small stakes in Los Angeles and Las Vegas. After graduating from UC Irving in 2003 with a degree in biology, Skye decided to continue his poker career full time. He continued to grind out the Hold'em games in Los Angeles and began playing online. After accepting a hosting job online, Skye moved to San Francisco for a change of pace and continued to pursue his career as an online poker player. After 18 months of hosting at UltimateBet.com, Skye quit the gig to focus on playing the best games on the internet.

In November of 2005, Skye won the Limit/No-Limit Hold'em partners tournament at Lucky Chances Casino, alongside his sister and poker student Halli Pinson. The duo took home $15,000 for their team performance at the tables. Skye went on to make final table appearances at Hawaiian Gardens and Commerce Casinos and cashed at the 2009 World Series of Poker for over $5000.

Today, Skye continues to make his living playing mid-stakes cash games online from his home in San Francisco. He frequently travels to Los Angeles and Las Vegas for the juicy cash games and the occasional tournament. His favorite and best game is No Limit Hold'em but has also had success playing mixed games. You can usually find Skye playing online or enjoying the live action in Los Angeles.