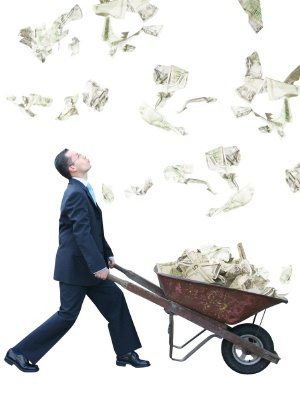 When you buy into a poker tournament or satellite, you typically buy-in and pay an entry fee. The buy-in goes into the prize pool and is returned to the players who finish in the money. The entry fee is collected and kept as rake for the house. This is true whether you are playing in a brick and mortar casino or an online poker room. The brick and mortar casinos have higher operating expenses and therefore often charge a higher entry fee than online poker rooms, and in addition to this, they often take a service charge from the prize pool which goes to the tournament staff. This means that it is far more expensive, in terms of fees, for players to play in brick and mortar establishments than it is for them to play online.

Still, if you play tournaments and satellites frequently, the fees can add up to a significant amount of money, even online. If you are going to make a profit, you are either going to have to find a way around the entry fees, or outplay the field by enough to cover the fees. If you play in a brick and mortar establishment, there really isn't any way around these fees. In order to make money in that setting, you are simply going to have to outplay the field. On the other hand, if you play on the internet, you can actually avoid paying any rake to the house, by looking for free money. Luckily, there is plenty of it out there if you know where to look.

Free poker money exists at nearly every online card room on the internet. Some of it is easy to find, in the form of added money tournaments, where the house adds a designated amount to the prize pool, and in freeroll and player points tournaments, which award cash and prizes for events with no buy-in. Tournaments which specifically state that they are added money events are relatively rare, but are a great deal if you can find them. Freerolls and player points tournaments are much more common. Most sites run poker freerolls every day, and the larger sites often have several freerolls a day. To enter in these events, you simply have to create an account, log in, and register for the tournament. Poker freeroll tournaments have no buy-in, and are identified as such in the virtual lobby. The drawback to playing poker tournament freerolls is you are often playing for a meager amount of money, and are usually up against many thousands of players. This may be fine if you're a recreational player who is not out to make a killing, but in the long run, you probably are not going to make that much money playing poker freerolls exclusively. If you want to make significant money online, without paying any rake, you have to look for the hidden free money.

Hidden free money exists in both tournaments and satellites, and can be found at all buy-in levels. For free money in higher buy-in tournaments, look for tournaments with guarantees. Tournaments which have guarantees will be labeled as guaranteed events in the poker lobby. Not every tournament with a guarantee will have free money. It depends on whether or not the house "covers" the guarantee. For this to happen, the house needs enough players to register, so that the guarantee is met or exceeded by tournament buy-ins alone. If the house covers the guarantee, they will be able to collect the entry fees as rake. If there are not enough players registered for the house to cover, the house will be forced to put up the difference between the sum of the buy-ins and the guarantee, whatever that may be. When this happens, it is called an "overlay." Occasionally, the overlay can be a significant amount of money, well surpassing the extra that the house collects in entry fees. If the house misses the guarantee, and has to add more than the amount that they have collected in entry fees, then effectively the players will have paid no rake at all, and will even have a small premium over the total amount that they spent on the tournament (buy-in plus entry fee) contributed to the prize pool. Remember, this money is returned to the players who make the money in the tournament, and it is essentially free money, given to the players by the house.

In order to get this free money, you have to identify when a tournament is likely to have money added to the prize pool because of a missed guarantee, play in the event, and finish in the money. Identifying when a tournament will not cover the guarantee can be a little tricky. Online tournaments often allow for late registration for several levels, so a tournament that is missing the guarantee when it first starts can end up covering because of the late entrants. This can make predicting the likelihood that there will be an overlay a difficult task. Difficult, but not impossible. There are some strategies worth discussing that are useful for identifying overlays for tournaments with guaranteed prize pools.

It is best to try to identify a probable overlay before the tournament starts. If you wait until just before registration closes, you will have missed several levels of blinds, and this puts you at a significant disadvantage. It is also best to look for overlays in no-rebuy events. Predicting an overlay in a multi-rebuy event can be very difficult. You just can't know for sure how many people will rebuy before the break. In multi-rebuy events, the only good way to evaluate the potential for an overlay is to look at the tournament's historical record. Reviewing a tournament's historical record is an effective method of identifying probable overlays. If the tournament in question is run daily, weekly, or monthly, it will have a record of either generally covering the guarantee or having an overlay. You want to look for tournaments which have a consistent history of having an overlay.

Now, you may be wondering why the house would continue to run a tournament which they consistently lose money on. The reason is that they are trying to establish a base of players who will routinely play that specific tournament, so that in the long run they will eventually begin to cover the guarantee. They are willing to lose some money on overlays in the short run in order to have the tournament established for the long run. Another reason that the house is willing to lose money on a tournament is because tournaments bring in cash game players to the site. This is especially true for higher buy-in weekly or monthly events. A player who logs in to play a $200 -$1000 tournament may also play in several side games at once, before, during and after the tournament. Incidentally, tournaments in this buy-in range often have the biggest overlays, both in total dollars and as a percentage of your investment. The best time to look for this type of event is on Saturday and Sunday, when a majority of the higher buy-in events with guarantees are held.

Another great place to look for overlays is in super satellites. Many of the larger online poker rooms promote high buy-in poker tournaments in vacation destinations like Aruba, Europe, South and Central America, and Asia. The internet poker sites promote these tournaments as poker vacation packages, and they often include a high buy-in tournament entry, first rate accommodations, and travel expenses. These poker vacations are usually either run by the poker sites themselves, or are a result of a partnership between the sites and casino where the event takes place. In order to effectively promote these poker vacation tournaments, there will often be a very high guarantee on the main event, often a million dollars or more. In order to ensure they meet this guarantee, the sites will aggressively run super satellites which award these vacation packages for several months prior to the event taking place.

These super satellites are a great place to look for overlays. They often guarantee one or more vacation packages, and quite often the buy-ins will not cover the cost of the package. This is especially true when the poker site runs a super satellite which guarantees multiple vacation packages. In the last few weeks leading up to the main event, it is not uncommon for a poker site to run a single super satellite which guarantees 25 or 50 packages. This is how they are able to guarantee such a high dollar amount for the main event. These multi-package satellites are often themselves promoted for many months at the poker site, alongside the main event. There are daily multi-level satellites which guarantee seats into the super satellites, and some have very low buy-ins (often a dollar or less). It is relatively common for both the multi-level satellites as well as the super satellites to miss their guarantees. It is a fantastic place to look for free money, especially if you want to play lower than the $200-$1000 buy-in range.

Typically, for the first seat you win from a multi-level satellite or a super satellite, you must play in the event that you've qualified for. However, if you win multiple seats to the same tournament, you are often given either the cash equivalent or tournament dollars, which can be used to enter virtually any tournament at that site. This even goes for the multiple wins for the main event package. This means that even after you've won a seat, you can continue to play for additional seats and be fully compensated should you win. This is great for players who are looking for free money, because all of these satellites can miss their guarantees.

The formula for evaluating if there is an overlay is straightforward. Simply add up all of the buy-ins and compare it to the amount of the guarantee. It is easy to see whether or not the house has covered. If your goal is to pay no rake at all, add up all of the buy-ins plus all of the entry fees and compare that to the guarantee. If the house is still short, it means that all of the buy-ins and all of the entry fees will be added to the prize pool plus any amount that needs to be added in order to cover the guarantee. Sniffing out the free money online is both smart and profitable. Once you master it, you may never go back to brick and mortar tournaments again.