Harrington on Hold'em

Harrington on Holdem Volume 2

Harrington on Holdem Volume 3

Harrington on Cash Games Volume 1

Harrington on Cash Games Volume 2


---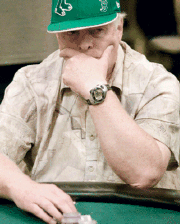 "Action" Dan Harrington is a professional poker player who is known for his final table appearances at the World Series of Poker main event. In 1995 he won the tournament, taking home one million dollars. In 2003 and 2004 he made consecutive final tables in huge fields of 839 and 2,576 players respectively. Outlasting these massive fields combined with his previous win make Harrington arguably the most accomplished player in World Series of Poker history.

Harrington was born in Boston, Massachusetts. He attended undergraduate and law school at Suffolk University. Strategic games were always an interest to Harrington; he is an accomplished backgammon and chess player. While he was in college, he took up poker and traveled to nearby Harvard to play with the likes of Bill Gates and Paul Allen. Soon after, he became a member at the Mayfair club where he played alongside Steve Zolotow, Howard Lederer, and Erik Seidel. In the 1980s, Harrington began playing tournaments in Las Vegas. It was in 1987 that Harrington began his WSOP Main Event legacy when he impressively took 6th in his first ever championship.

Harrington's style of play is much tighter than the modern tournament player's. Despite some criticism from the game's super aggressive young guns, you can't argue with the results that Harrington has delivered in major tournaments, even with the modern massive fields. Looking at his results, it is clear that his style has earned him the reputation of being the most consistently successful player in the world. Harrington may be tight, but he's not stupid: because he is known for his conservative plays, he is able to get away with a perfectly timed bluff every now and then, which adds another dimension to his game. When he gave himself the nickname "Action Dan," he was presumably poking fun at himself, because he is in no way considered an action player.

Despite having an amazing poker resume, Harrington considers himself to only be a part-time player. He spends a good deal of time on his real estate businesses and playing the stock market. Previously a lawyer, Harrington brings his business mind to the tables and has been known to turn his nose up at the glory and fame that poker offers. In several interviews, he has made it clear that he got into poker strictly for the money and has no interest in being in the spotlight. Harrington definitely had financial interests at heart when he found himself at the final table of the 1995 WSOP championship. He proposed a six-way chop and explained to the players that if they invested their winnings, they could all eventually be rich. No deal was reached, but after every player got knocked out, Harrington kept insisting that they take the deal. He even offered investment advice, but no player accepted his offer. Soon enough, they were all eliminated and Harrington pocketed the entire million dollar first prize and the gold bracelet.

Dan Harrington books are a must-read for any serious poker player. He has written three volumes of Harrington on Hold'em (Strategic Play, The Endgame, and The Workbook) which focus exclusively on tournament play. Using real-life examples from his experiences on the felt, Harrington offers the reader a look into the tournament strategies that have made him so accomplished. He followed up his tournament books with two volumes of Harrington on Cash Games which both focus on No-Limit Hold'em. He currently resides in Santa Monica, California where he continues his business endeavors and travels the world to play in major poker tournaments.

Every serious poker player has Dan Harrington books on their shelf. To read the Poker-Vibe Dan Harrington book reviews, click on the links above.