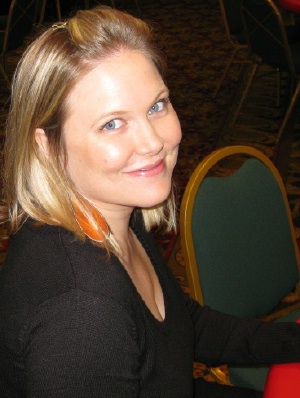 Halli Pinson is a professional poker player who learned the game from her brother and fellow poker pro, Skye Pinson. While growing up in northern California, Halli never considered playing poker for a living. Originally intending to become a journalist, Halli didn't take her brother's profession seriously until he encouraged her to give it a try herself when she was 21. She was immediately drawn to the game and began playing online daily while attending college classes and working full time as a cake decorator. Adding poker to an already busy schedule left Halli exhausted most days, but her determination and competitive nature kept her on the virtual felt almost every night. After a year of grinding online cash games while building her skills and bankroll, she took the leap and quit her bakery job to join her brother as a professional card player. Halli continued her journalism classes for the next year but eventually left school to concentrate solely on her poker education.

While sharing an apartment with Skye in San Francisco, Halli's poker knowledge flourished. Previously employed as a teacher, Skye worked closely with Halli on her game, turning their home into a classroom during the day and an office at night. They both played online poker full time combined with regular trips to the local brick and mortar casinos, frequently traveling to Los Angeles and Las Vegas to chase the cash game action and play tournaments. In November of 2005, the brother-sister duo won the Limit/No-Limit Hold'em partners tournament at Lucky Chances Casino, taking home $15,000 for their efforts together.

After four years of honing her skills in San Francisco, Halli made the move to the Los Angeles area in 2007 to pursue a career as a live cash game player. Her favorite and best game is No-Limit Hold'em, and she can usually be found playing cash games at the Bicycle Casino or playing online. In addition to her cash game success, Halli has cashed in tournaments internationally, with final table appearances in the United States, New Zealand and the Bahamas. In January of 2010, Halli made her way to the final table of the PokerStars Caribbean Adventure's Ladies Championship, where she finished second to Team PokerStars Pro Vanessa Rousso and pocketed nearly $14,000 for her efforts.

While Halli enjoys playing tournaments occasionally, she considers cash games to be her bread and butter because they provide her with a more steady income. When asked about why she doesn't play more tournaments, Halli has said "Tournaments break your heart and break the bank." She has called cash game players "the true unsung heroes of the poker world because they work hard, day in and day out, grinding it out to pay their bills. Cash game players don't chase big scores and unobtainable dreams - they will never be famous for what they do, and most of them usually don't mind." While Halli is loyal to her job as a cash game player, she will often play select tournaments that offer good structures and large payouts. Although she is a professional cash game player, she considers herself to be only an amateur tournament player.

When she is not at the tables, Halli enjoys having a great meal and drinking wine with her friends and family, and travelling the globe with fellow poker player and close friend, Shirley Rosario. Halli has been a content writer for PokerStars.com, Poker-Babes.com and Poker-Vibe.com and currently resides in Long Beach, California.