Super System

Super System II

Poker Wisdom of a Champion


---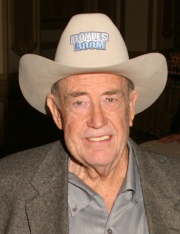 Doyle "Texas Dolly" Brunson is a true living legend in the poker community. He is considered to be the founding father of Texas Hold'em and has played poker for over 50 years. Now well into his 70s, Doyle continues to amaze his fans and competitors with his consistent results at the tables.

Doyle Brunson was born in 1933 in the tiny town of Longworth, Texas. His family was very poor, but he was determined to create his own fate. As an athlete from an early age, Doyle ran track in high school and played basketball. He earned a college scholarship in both sports and was training for the NBA when his leg was shattered in a factory accident where he worked. The injury left him in a cast for two years, closed the door on his dreams of becoming a professional athlete, and left him with a life-long limp. In the face of tragedy, Doyle turned his attention to his education and received a master's degree in administrative education in 1955. He had played poker before his injury but didn't fully understand the profitability of the game until he started playing seriously during his recovery. Although he took a position as a salesman after graduation, Doyle soon realized that poker was much more lucrative and eventually quit his day job.

His early years playing poker were reminiscent of a scene from a Hollywood movie; true gamblers on the road trying to find the next best place to make the big score. Along with fellow pros Dwayne Hamilton, Amarillo Slim and Sailor Roberts, Doyle travelled around the south, playing in illegal games often run by the mob. The games were rough, sometimes crooked, and often dangerous. A gun was pulled on Doyle more than once, and he was robbed and beaten up on several occasions. He continued to play because he loved the game and the money was good. Doyle eventually settled in Las Vegas where playing poker was more accepted and much safer. It was here that the Texas gamblers first introduced Hold'em to the mainstream gambling world, and the rest is history. The game has changed since Doyle's early years and he has been an integral part of its growth.

Doyle Brunson has been a part of the World Series of Poker since its inception and has won numerous WSOP bracelets including two championship event titles in 1977 and 1978. He has other bracelets in a wide variety of games including Seven Card Stud, Seven Card Stud Split, Deuce to Seven Draw, Mixed Doubles, H.O.R.S.E., and of course No-Limit Hold'em. He also has several World Poker Tour final tables including a win at the Legends of Poker WPT event.

Doyle Brunson is also an accomplished author. His 1979 book Super/System is known as the "Bible of Poker" because it truly revolutionized the way the game was played. It was the first strategy book of its kind and is still known as one of the most important poker books ever written. Super/System II was published 25 years later, this time offering readers insights from several other poker professionals including Daniel Negreanu, Mike Caro, Jennifer Harman and Doyle's son, Todd Brunson.

Doyle "Texas Dolly" Brunson remains one of the top players in poker today. He continues to travel to play in major tournaments and delivers results. In 2006, BLUFF magazine voted Doyle the "#1 Most Influential Force in the World of Poker," a title well-deserved by this legendary force. He resides in Las Vegas and is the spokesperson for the online card room DoylesRoom.com.

Poker-Vibe has several book reviews of Doyle Brunson's work, which can be found by simply clicking the links at the top of this page.