Multi-Table Poker Tournament Strategy
Written by David Huber, this article focuses on online multi-table tournaments and describes some of the basic poker tournament strategy needed to be a successful online tournament pro.

Playing Pocket Pairs
An article describing how to optimally play pocket pairs in No Limit Holdem Tournaments (the article can also be applied to NL ring games).

Sit N Go: Patience is a Virtue
Scott Buono discusses how many players in sit n gos (especially lower buy-in games) tend to be aggressive in the early stages of a sng and how smart, patient players can capitalize on it.

Sit N Go Strategy - Part 1: Early Stages
Part 1 of David Huber's wonderful sit n go strategy articles. Huber actually took heat from Sit n Go specialists because they thought he gave away too much information in this article. It discusses how to exploit weaknesses from your opponents in the early stages of these types of tournaments.

Sit and Go Tournaments - Part 2: Middle Stages
Huber's second part of his sit and go articles. It describes some of the things that players should consider when playing middle stages of sng's.

Tournament Freerolls and Overlays
A lengthy article discussing "free" money offered in poker including tournament freerolls and overlays which are guaranteed tournaments that don't meet the guarantee.

Poker Tournament Survival
Accumulation and survival in tournaments

---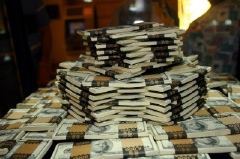 Tournament poker has become increasingly popular over the years due to television shows like the World Poker Tour and ESPN's coverage of the World Series of Poker. Tournaments are often where you will find many of poker's fresh faces due to the lure of big money at the end of the road. When then-amateur player Chris Moneymaker won the 2003 WSOP Main Event, tournament rooms around the world became flooded with new players who had realized that anyone could win "the big one."

New players often see tournaments as the easiest and best way to make a big score, while experienced players know that being a great tournament poker takes a lot of time, work, and dedication. Of course, there are players who have won a million dollars just by getting lucky, but the players who remain at the top of the tournament leader boards do so because they have spent countless hours perfecting their skills. Many new players who have hit a big score make the mistake of thinking that tournaments are easy, while this couldn't be further from the truth. Because winning a tournament requires a great deal of luck (especially for amateur players), first place titles are not easy to come by. However, the more skills you acquire, the less you will have to rely on the cards to go deep in a tournament. Constantly learning and applying poker tournament strategy is essential to becoming great.

On this page, you will find poker articles that will help you work on your tournament game. Once you absorb and apply the information offered here, you will be that much closer to becoming the type of player who remains at the top of the tournament leader boards. We have articles on several different types of tournament poker games including sit n go's and multi-table tournaments, aimed at a variety of skill levels from beginners to seasoned professionals.

While the concepts on this page will surely increase your knowledge of tournament poker strategy, putting it into practice is just as important (if not more so). Luckily, there are thousands of online poker tournaments everyday, for every sized bankroll, that are a great opportunity to start putting your new skills to the test.

This site is updated on a regular basis, so keep checking back to see what new tournament poker strategy articles we have added to the section.