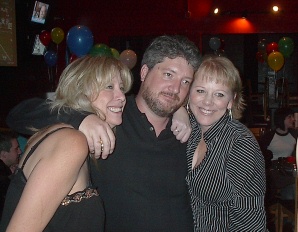 Jesse Knight began playing casino poker in 1993 at the age of 21, while he was a student at Arizona State University College of Business. At that time, his games of choice were Seven Card Stud and Texas Holdem. He quickly became a winning player and used this income to support his studies, which were focused on Economics and Game Theory. In 1998 he graduated with a Bachelor of Science in Economics. After graduation, he began playing poker professionally in the Phoenix area casinos, where he gained a reputation as a fearsome stud player, which earned him the nickname of "The King."

In 2000 he was offered and accepted a job as a proposition player at Pechanga Casino in Southern California. He started out propping low limits, spending most of his time in the 4-8 and 6-12 Holdem game. Within a year he had been promoted to 8-16 prop, taking on anyone who wanted to play, and with his fellow props, he helped to establish the game on a daily basis for the casino. In late 2001, prior to opening the Resort at Pechanga, management decided to eliminate the proposition player department, and Jesse decided to move on to propping at a new casino rather than take a reassigned job as a floorman.

He worked briefly as a graveyard prop for Hustler casino in Gardena, California, before moving on to become a prop and host at Hawaiian Gardens Casino in Hawaiian Gardens, California. It was there that he developed a special affinity for Omaha H/L. Within a year he was promoted from prop to host, which made him responsible for promoting poker for the casino as well as starting and saving games. During this time, he played an instrumental role helping to establish a new game, restricted buy-in No Limit Holdem, which soon became one of the main revenue streams for the poker department.

This lead to him being offered the No-Limit Hold'em host job at the world famous Bicycle Casino in Bell Gardens, California, just outside of Los Angeles. At the time, in mid-2004, The Bicycle Casino was not spreading No-Limit cash games, as Hawaiian Gardens had been the first ones into the market with the game. Jesse was tasked with developing the game for "The Bike." He promised management he would bring them not just one or two No-Limit games, but an entire section. He quickly delivered on that promise. He began spreading the restricted buy in No-Limit Hold'em on his first day on the job, and within a few months the game took off. By the end of the first year, he had developed it into a multi-million dollar annual revenue stream. Jesse was extremely popular with the players and poker employees alike, for his fairness, his player-friendly philosophy, and his dedication to preserving the game's integrity while at the same time fostering a pleasant, service oriented gaming environment.

His regular players included such well known names as actors Vince Vaughn, Toby Maguire, and the cast from "That Seventies Show," Lakers Owner Jerry Buss, and many others. No-Limit became so successful at "The Bike," that within a year the poker room underwent an expansion, which was necessary to accommodate the rapidly growing No-Limit section. In addition to his hosting duties, he also propped the 30/60 Hold'em game in the mornings.

After firmly establishing No-Limit Hold'em at The Bike, he moved on to become Executive Host and Poker Room Manager at Crystal Casino in Los Angeles. While there he oversaw poker operations, and was active in designing poker promotions, marketing strategies, and tournament schedules. He focused on promoting customer service, hustle and teamwork among the staff, and maintained an open door policy for both players and employees alike, which made him very popular.

In 2007 he left Crystal Casino to pursue his dream of playing poker online for a living. He has been very successful as an online pro and currently works as a host for a major online poker site. His games of choice are Omaha H/L and Pot Limit Omaha H/L. He also enjoys playing tournaments recreationally, where he has played against many of the world's top professionals. He has won several tournaments, both online, and in brick and mortar establishments, and has placed in the money at the World Series of Poker.

In addition to playing online, Jesse is a poker writer and theorist. His experiences as a brick and mortar grinder, poker manager, promoter, and internet pro give him a unique perspective on the game, and this experience shows in his writing. He is able to thoroughly explain the game and its concepts from many different angles. Whether he is discussing beginning, intermediate, or advanced poker theory, his approach to writing is to explain everything in detail, from the poker strategies themselves, to the logical processes on which they are founded. In addition to writing, he has also worked as a poker coach, helping several beginners develop into winning players. This includes his wife, Patricia, who has developed from a recreational low limit player into a successful internet pro, through his instruction. They currently reside in Southern California. His work can be read at Poker-Babes.com and Poker-Vibe.com.