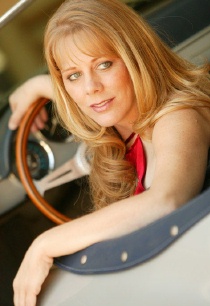 Shirley Rosario is a professional poker player from the Los Angeles area. Even though most people would agree that she is a "professional," she insists that she is a "semi-professional" player. The reason she gives herself that title is because she devotes half of her time to the business side of poker rather than grinding it out at the tables 100% of the time.

Her introduction to the poker world started when she was barely of legal age. At 21, she started working as a cocktail waitress at the poker capital of the world, Commerce Casino. It was here that she met and learned from some of the best players in the world. She credits Steve Badger, a professional poker player and successful poker webmaster, with most of her success. He taught her the game of Omaha Hi/Low and has continued to mentor her throughout the years.

She also credits him for her success in the business side of poker. For years, she profiled some of the most well-known poker players in the poker business on the popular poker website, Poker-Babes.com. The concept of the site was borne out of a discussion Shirley and Steve had in early 2003. While discussing the idea of having a website that was appealing to women, Shirley said "I should write about the players that have been successful on the World Poker Tour. I have known these players for years and there is no information about them on the internet except for their tournament stats. Since they will be on television, people will be interested in knowing more about these people." From that day forward, more than 100 profiles have been published on Poker-Babes, most of which she wrote herself. Over the years, her site has also included strategy articles, tournament reports, one of the best poker glossaries on the web (mainly written by Poker-Vibe contributor, Jesse Knight), and her own personal journal where she writes about her adventures in poker.

In the middle of 2003, she left her job at the Commerce Casino and took the leap into becoming a professional poker player. She had already had some success in Omaha Hi/Low tournaments, but decided to devote some time to playing online poker. About a year later, she was hired as a prop player at the Bicycle Casino where she was paid to play in a multitude of games. Prop playing, according to her, "was where I learned how to excel in a wide variety of games. Of course it wasn't easy. The first time I was asked to sit in a Crazy Pineapple game, I was overwhelmed." She soon took on the duties as one of the hosts of the No-Limit Hold'em section (along with Jesse Knight and Tricia Frick) and helped build from a two game section into a forty+ one. She also spent a year as the commentator for the webcast, Live at the Bike which later aired in the UK under the name "LA Poker Scene."

Some of Shirley's other business poker credits include writing for several poker publications and playing a minor role in the Poker for Dummies video along with Chris Moneymaker.

In January of 2006, Shirley was diagnosed with breast cancer and underwent aggressive treatment including chemotherapy and radiation. She basically took a year off from playing poker during this time, but is now playing again and is cancer free. Since that time, she has used poker (the business and playing side) to help her live her dream of traveling the world. She has been to (and played poker in) Uruguay, Costa Rica (twice), Mexico, Bahamas, Chile, Italy, and New Zealand. Many of her travels have been with her great friend and fellow poker player, Halli Pinson. The two of them write about their adventures on their site, www.poker-journeys.com.

Her tournament record includes first place finishes in the 2005 Legends of Poker Omaha Hi/Low event, 2007 Big Poker Oktober Omaha Hi/Low, 2004 Grandslam of Poker NL Shootout, and the 2009 $1,000 buy-in H.O.R.S.E. event. She also finished second to Phil Hellmuth in the 2003 LA Poker Classic Omaha High Low tournament.

You can read her poker games journal on her personal site.

***Since this article was first put online, Shirley Rosario sold poker-babes.com to PokerStars for the power of the domain. A lot of her personal content (like her poker games journal) was moved to her website, ShirleyRosario.com and some other content can now be found on this site.