All of us "wannabe" tournament winners have been there many times. You play as smart as you can, make well-timed bets with the right cards, slip in a nice check-raise or even a sneaky bluff or two along the way… We find ourselves well above the average chip stack when three quarters of the field is gone. Those "final table fairies" start dancing in our heads. We pat ourselves on the back, thinking "Hey, I can play this game!" And, then... it happens.

Three or four hours into the event (online as an example), we get to see a cheap flop in middle position with our J 9 suited against a big stack in the blind. When a Jack high hits the flop, we are overly convinced the pot will be ours and we bet, even happy to be called by the two players who checked to you. The rag turn card "forces" us to show those other two callers who's boss by throwing a big bet into the middle, and yet the big stack is "stubborn" and won't go away. We think to ourselves, "How dare he still call, just because he has chips?" It's not until the river seems of little help do we bother to realize, "How dare I think I have the best hand!" Three hours ago, we wouldn't have dreamed of playing the same hand so gung-ho (a.k.a. stupidly)! Why, now, do we assume unbeatable strength that is only a mirage? Is it due to fatigue? Is it because we are not used to having so many chips to blow? Those "I can play this game" thoughts we had earlier turn to "When will I ever learn to play this game?", while we tap the table to the KJ in the small blind and say good-bye to an unwarranted number of our chips. Why the sudden blindness?

Focus. We lose it. At least most of us average, aspiring, players do. We lose focus on that one hand late in a tournament, and now our "focus" turns on us... turns against us! We are taken over by the "dark focus" Luke. Our thoughts go from "playing smart" to "getting back what we lost" (greed!); from "being in good shape" to "how will I even make the money now – forget winning?" (doubt!). We lose a good chunk of our stack on one hand late in the game, and suddenly "all hope is lost" and we throw caution (not to mention intelligence) to the wind. We want it all back NOW because it is unacceptable to no longer be among the leaders where we once stood so proudly.

Greg Raymer took some huge hits to his stack late in last year's World Series of Poker Main Event. Yet, somehow he still managed to go on and win. Why didn't he panic? Josh Arieh also took some huge hits. How come they didn't lose sight of their ultimate goal? In fact, how on earth did ANY of the final table players (hell, let's say "final 18" or "final 36" for that matter) play in the most prestigious poker tournament of the year – for DAYS on end (12-14 hours on average), without losing focus? How did Chris Moneymaker "recover" after losing over $800,000 in chips to Sam Farha on a failed bluff at the final table in 2003, after 7 days of non-stop poker? Granted, Chris still had lots of chips left – but he was suddenly no longer the chip leader! Why didn't he just collapse and "give up" like so many of us would (especially as he was an "amateur" vs. the world's best)? Why didn't he say to himself, "Well, I've had my run, but now it's time to for the nightmare to catch up with this dream"? Knocking that down a few (hundred) notches - Why can't I keep positive and play as well as I know I can after only 3 hours into an online tournament?! "The leaders are SO far ahead of me… what's the point?" I'll bet David Williams never let that thought cross his mind last year when he was incredibly short-stacked compared to Raymer.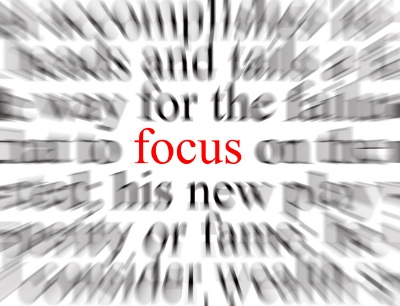 I suspect the difference is simply because the best players can maintain their focus longer, sharper, and unshakably. They don't think about losing simply because they've taken a hit, or because someone outplayed them two hands in a row. They refuse to lose sight of the pot (no pun intended) at the end of the rainbow! They don't stray away to thoughts of "second place would be nice", followed by "a final table appearance would be respectable", and working their way down to "making the money would be okay" - all the way back to an early exit and "why do I bother playing?" Negativity and lack of confidence are traits the best players do not possess. Nothing will undermine their focus.

These players know that continuing to play smart in the face of adversity will always prevail over panic. They welcome the challenge. Their success seems to come simply because they do not allow themselves to go on tilt. All the emotions that go into tilt (anger, frustration, personal vendettas, etc.), while perhaps seeping through their veins unseen, are overshadowed by their desire to win in spite of the setbacks.

So how, in today's mega-tournaments (with fields of 1000+ players), do we prevent ourselves from getting "bored" (definition of which, for purposes of this article, is: "a state of listlessness brought on by the mere passage of time with no guarantee of success thereafter") and making dumb, unnecessarily desperate plays? How do we overcome taking two small steps forward but one big step back? How can we maintain the concentration needed to get "heads up" after many hours (online) or perhaps days (WSOP!) of play?

Drawing on past successes, however small, can help – especially after taking one of those backward steps late in the game. (i.e. – Remember when you were dead last by a mile at the final table of that 2-table sit & go – and still came in first?!... Remember when you tripled up after hitting that nut flush soon after losing half your stack with AA?) Thinking positive, thinking about successes, thinking about the crazy possibilities in our beloved game of poker can go a long way in multiplying the last of your chips and keeping you in the hunt. Staying excited can help stay focused.

If you do not have "personal" successes to draw upon, consider (and borrow!) some of the newcomer's successes at the 2004's World Series of Poker. My personal favorite story in all the 33 events has to be that of Gerry Drehobl. (Remember "Mr. Mobil Home"?) I'm sure he had some terrible bumps along his road to victory over the likes of Daniel Negreanu and John Juanda. But somehow, despite what must have been chest-pounding doubts, nervousness and mistakes along the way, he managed to put the blinders on and stay focused on his chances of winning vs. the best in the world. His poker "career" at the time – 6 months old!! His desire to win, I imagine - a lot older, and stoked by similar success stories in past years. He wanted to win a tournament, and he did. We can too.

Whatever it takes to "stay in the game", I think, is as important an aspect in a tournament as playing smart and knowing what to do. It just has to be "done" for as long as it takes! Stay focused, and never say die! It may help you win that first tournament. I guarantee you'll at least feel better about yourself even if you don't.