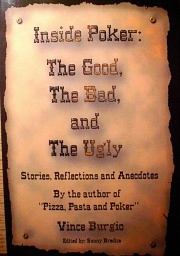 "If I were a writer (a real writer)…" are the only wasted or inappropriate words you'll find in Vince Burgio's new book – Inside Poker: The Good, The Bad and The Ugly. Given the notoriety and success of his first book (Pizza, Pasta and Poker, also reviewed on this site) makes one wonder how the author could ever doubt his talent as a storyteller. Perhaps he feels the only "hat" he will ever be known for wearing well is that of a professional poker player, but Burgio has proven he is not a literary "one hit wonder" with the printing of his second tome.

A compilation of Burgio's CardPlayer magazine articles (or "columns" as he prefers to call them) written from 1998 through 2006, "Inside Poker" takes a look at the "lighter side" of the poker world with tongue-in-cheek commentary and alert, watchful views that should appeal to anyone with a good sense of humor and a conscience. Anyone familiar with Vince's first book knows that he is poker's quintessential "every man" (long before Steve Dannenmann earned the title). Not many can "shoot the shit" like Burgio. He makes his readers feel as if he's just shown up at your door with coffee and warm rolls for a morning of friendly reminiscence and his "two cents" on any and all subjects relating to poker, and life.

Readers will not get past the table of contents before Vince manages to stir emotions with a dedication to his "good buddy" Pat Flanagan (who recently passed away). The simplicity of Burgio's thoughts and the way he expresses himself are his strengths in each of his reflections. His underlying moral fiber heavily influences and controls the direction of his words, and makes it easy for readers to get caught up in a poignancy that seems to come naturally whenever family and friends are mentioned. Prime examples of Burgio's priorities in life can be found in articles such as "As Time Goes By" and "Small Pairs". None could ever challenge Vince's devotion as a family man.

The format of "Inside Poker" lends itself to being a very refreshing, relaxing read easily accomplished in two or three sittings, as the pages almost turn themselves. Each past article is presented as originally written, and then followed up with Burgio's present day "after thoughts". These short "follow up" comments offer comparisons of the subject matter to today's "post-poker boom" environment, wherein Vince will either readily admit "times have changed", or reinforce that "some things remain the same". He shares feedback and opinions he received from readers since the original publications in CardPlayer, which help lend a nice "closure" to each subject. Oftentimes readers will get a glimpse into how Vince came up with the ideas for his columns, and the "hook" within each one. He doesn't talk "at you" - he talks "with you", and this style is very endearing to a self-professed "non-writer". Despite a noticeable amount of typographical and punctuation errors, readers will not miss a beat. Any grammatical imperfections are merely a reminder that we are in the company of a "regular guy" who innocently, yet enthusiastically, took on the challenge of writing while admitting long ago that he is no Hemingway.

After every few chapters (articles, or columns – take your pick), readers are given a fun "visual break" in the form of photographs, and cartoons created and illustrated by Burgio and friend John Bonafede. (Burgio taking credit for the ideas, and Bonafede being the artist.) The cartoons poke harmless fun at a variety of well-known poker "celebrities", but mostly show how Vince can just as easily (and will more readily) laugh at himself. Each will bring a smile to your face and reinforce the overall tone of this work.

Not every article is humorous however. While Burgio has a flare for light-hearted sarcasm that tends to keep things mellow and fun, he can also get serious about things he is passionate about. He pauses occasionally to address negative social aspects of the game (such as smoking, dealer abuse, profanity, bad manners, etc.) and offers his views and opinions on how to keep the "poker world" in the most positive light. In fact, in rare instances, Vince can come across as a downright curmudgeon when addressing his "pet peeves". However, it is this passion that makes him so likeable. Whether you agree or disagree with his views and ideas, he is doing his duty to protect the integrity of his profession and bring about an awareness of anything he feels will harm its image. He is not afraid to call a spade a spade, and in this context such a trait is admirable. "Soap and Warm Water" is a good example of an article that does justice to Burgio's vigilance when it comes to social responsibility.

There is a very positive vibe running throughout most of the articles Burgio chose to include in this collection. The manner in which optimism is reflected in "Chance of a Lifetime", respect and character in "Yes, Sir" and encouragement in "Closed Fraternity" helps readers feel they are being taught some valuable and positive life lessons by someone who has been in the trenches in all aspects of poker, and life.

In addition to telling some great stories of his own experiences and observations, Burgio also puts his spin on the yarns of some of the most colorful "old timers" he had the pleasure of associating with, such as Cowboy Wolford and Amarillo Slim (Preston). Further fun is found in articles such as "Quips and Quotes from Poker Players" (wherein lie some dubious, but nonetheless humorous, "words of wisdom" from many top players), "Very Superstitious" and "Almost Everyone Has His Price". These Burgio "research projects" are reminders of Vince's ultimate goal – which is to inform, entertain and have a good time in sharing his world with the rest of us.

Readers will be thankful that Vince far surpassed his original goal of writing only 10 columns (he has published over 100), as these anecdotes are as refreshing in book form as the days they were first printed as magazine articles. Devoted readers of CardPlayer might experience a bit of déjà vu reading "Inside Poker", but will undoubtedly relish this nostalgic "complete package", with its added components.

To answer Vince's trademark sign off - "For what it's worth…": A whole lot of pure enjoyment and relaxation, Mr. Burgio.